Online Master of Public Health
Download a FREE Program Brochure
Complete the form to download a program brochure and an admissions representative will contact you shortly.
Backed by cutting-edge research, meeting today's needs.
Earn your MPH online at a university world-renowned for its accomplished faculty and research expertise. Whether you are moving into the field or expanding your knowledge, the program provides the science-based knowledge you'll need to devise and implement solutions to public health challenges.
Promote Family and Community Health
As the definition of "family" evolves, so do their health needs. The Family and Community Health concentration of the online MPH addresses these needs as well as health disparities through a lens that includes social, legal, biological, cultural and political factors. You'll learn to identify and evaluate public health in this context to better serve families and communities.
Accreditation & Ranking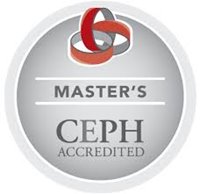 This online Master of Public Health is accredited by the Council of Education for Public Health (CEPH), the nationally recognized accrediting body for both schools of public health and public health programs.
Wall Street Journal/Times Higher Education
Combine Science and Practice
The online MPH curriculum covers topics vital for public health professionals, including:
Epidemiology
Biostatistics
Health system administration and management
Environmental health sciences
Behavioral and social sciences
In addition, the program requires students to complete a practicum—a 200-hour work experience that can be tailored to each student's particular area of interest, and may be completed while still working. This practicum provides an opportunity to apply what you have learned in the real world and can serve as a foundation for future career goals.
The online MPH can be completed in a little over two years.
Fill a Growing Need for Public Health Professionals
The Association of Schools of Public Health (ASPH) estimates that the nation will face a shortage of over 250,000 public health workers by 2020.1 Graduates will be prepared to fill positions domestically and internationally, ranging from jobs in local health departments, government agencies and in the private sector as well.
Complete the form to take the first step toward a fulfilling career making sure all communities have their health needs met.
Sources
1"Wanted: A Workforce to End Health Disparities," https://blogs.cdc.gov.